Florian Alfen
Name
Florian Alfen
Hangul
플로리안 알펜
Characteristics
Race
Human
Birthday
April 10th
Gender
Female
Height
160cm
Eyes
Brown
Hair
Brown
Professional Status
Personal Status
Status
Deceased
Relatives
Richard Alfen (Husband) †
Lark Alfen (Son)

Alias
Rian By Vlad Tepes
First Appearance
Webtoon Debut
Chapter 63
Florian Alfen was the human who gave birth to Lark.
Character Information
Edit
Appearance
Edit
Florian is a petite woman in her mid to late 20's. She has freckles on her face and has medium brown hair. During the day she wears a brown dress with a blue collar around the neck tied in a loose bow with matching brown boots. At night she wears a white sleeveless nightgown with brown boots.
Personality
Edit
Florian seems to be an upbeat, quirky person. She's easily lost in the grief of losing the person most important to her and therefore quick to latch on to anyone and anything that could possibly stay with her even if they are a stranger, but once reason is shown to her she's quick to overcome that grief for the sake of another precious person. She doesn't seem to care much about the difference between herself and the vampires despite her fear when finding out they were going to use her as food even after Tepes changed her mind, her clan acting on their own.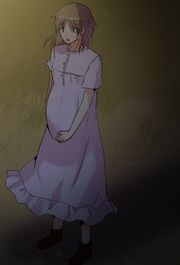 Florian Alfen was an average human woman. While she was pregnant, Florian's husband,
Richard
, died in a carriage accident. Florian became depressed. One day, as she was crying over her husband's death,
Vlad Tepes
was washed up near her, unconscious. Florian, half-heartedly, took her to her house and, despite her sister's objections, took care of her. Two months after Richard's death, Florian gave birth to a red-eyed boy who was named "
Lark Alfen
". She died of a seizure several weeks after her son's birth. This left Florian's son to be raised by her sister and her sister's husband.

It has been revealed by Tepes that her son Lark was naturally born with red eyes as his mother had brown eyes and his father blue eyes. This is because Florian gave birth to the first Crimson Eyed Human born in centuries- a separate race that should not have existed and thought to be long extinct.
Her son seems to have inherited her trait to get attached to people close to them especially Tepes, who they both got close to. This is displayed when like his mother who got distraught when Tepes said she was going to die, Lark got distraught when she said she was going to leave for awhile.